Challenge 13: Hide and Seek
[[File:{{{Image}}}|200px]]


Challenge 13: Hide and Seek in-game picture.

Information
Cost:
{{{Cost}}}
Slot:
{{{Slot}}}
Type:
{{{Type}}}
Soldier:
{{{Soldier}}}
Extra effects:
{{{Effects}}}
Stats
Damage:
{{{Damage}}}
Accuracy:
{{{Accuracy}}}
Range:
{{{Range}}}
Fire Rate:
{{{Fire Rate}}}
Ammo:
{{{Ammo}}}
In this challenge, you are up against a team of soldiers of different classes, but they can't see you as you have improved Shadow Blend, which unlike the normal
Shadow Blend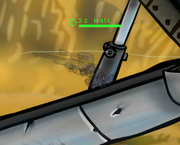 , you can stay invisible forever even while standing and moving but still appear after shooting or being attacked. Beating this challenge requires you to use a powerful weapon, like a sniper rifle, homing explosive or shotgun; go for targets that are weak, like
Assassins
; and go for targets that are alone.
Also, avoid using an automatic weapon, since it takes a bit longer to destroy some targets and this gives a chance for the enemy to attack you.Use Katana
Ad blocker interference detected!
Wikia is a free-to-use site that makes money from advertising. We have a modified experience for viewers using ad blockers

Wikia is not accessible if you've made further modifications. Remove the custom ad blocker rule(s) and the page will load as expected.