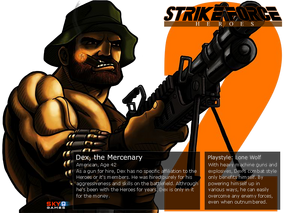 "Ain't got time to bleed."
"Go ahead, make my day!" 

- The Mercenary
The Mercenary is a new class in Strike Force Heroes replacing the Commando from the original Strike Force Heroes.
He starts with a MK 48 and a Kriss Kard.
In-game/Campaign
Edit
In the campaign, the mercenary's name is Dex.
He uses weapons similar to the commando from the previous game, like heavy machine guns and rocket launchers.
Playstyle
Edit
Unlike the Commando, the Mercenary works for his own, which is powerful against an enemy. However, it would be a problem, since he can't handle an entire team with well balanced points (such Generals in this case). The Mercenary is like the opposite of the same General or Juggernaut, as the Mercenary focused on firepower, the General in team support and the Juggernaut on health.
Ad blocker interference detected!
Wikia is a free-to-use site that makes money from advertising. We have a modified experience for viewers using ad blockers

Wikia is not accessible if you've made further modifications. Remove the custom ad blocker rule(s) and the page will load as expected.